Stuff for You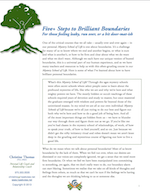 Here's a copy of Five+ Steps to Brilliant Boundaries,
for those feeling leaky, run over, or a bit door-mat-ish!
If you're thinking about coaching but not even sure what working with me would be like, I will gladly offer you a free sample session. We can get to know each other a bit, and then you could have a sneak preview of the trouble we could get into together! All you have to do is email me and we'll find 45 minutes or so to meet on the phone and see where we end up.
Videos
Articles
Love opens all doors, no matter how closed they may be, no matter how rusty from lack of use. – Maharishi Mahesh Yogi
My deep gratitude to all of you who are a part of my web of support. What a great tool for connecting with our clan members the Internet is! Here are some of the people whose good work is building sustainable, life honoring options for us all:
Allies who helped make this website so beautiful:
Karen Gurwitz, project manager extraordinaire!  Karen's vision, organization, talent, and experience saved my sanity.  I will never create another website without her.  She can be reached at karengurwitz@gmail.com.  She is a translator fluent in the language of the graphic artist, the web technologist and the client – and she knows how to keep us all happy.
Gretta Willoughby Adams, Left Hand Graphics, graphic artist extraordinaire! If you love my memes or the beautiful colors of my site or my fabulous logo – Gretta designed all of these and more.
Nick Armstrong, www.wtfmarketing.com, awesome small business marketing expert, helps me with everything WordPress related. Nick did all the technical stuff that made this website possible.
Charlotte Zink, www.zinkmetalart.com, creator of the luscious tree Goddess on my Women in Transition Page and many more divine and delightful images.
Lori Gama , www.dagamawebstudio.com, creative, talented, knowledgeable, wise, sensitive, dynamite web strategist who loves to support women in creating powerful, successful web sites, in combination with results-oriented SEO, and effective Social Media marketing/training.
Healers, Elders, Sages, and Shamans:
Coaches and Coaching:
Books, Magazines, E-zines, Printed Materials:
Nice stuff and support services:
Organizations that are doing great work and need our support: